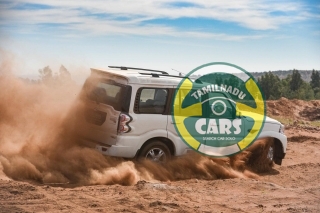 The new Scorpio loses the Delhi-NCR-specific 1.99-litre engine and gains the 2.2-litre engine in its 140PS tune
Mahindra has launched the Scorpio facelift at a starting price of Rs 9.97 lakh (ex-showroom Delhi). Here's the pricing for the new Scorpio's six available options:
S3 (75PS): Rs 9.97 lakh
S5 (120PS): Rs 11.62 lakh
S7 (120PS): Rs 12.69 lakh
S7 (140PS): Rs 12.99 lakh
S11 (140PS): Rs 14.79 lakh
S11 4WD (140PS): Rs 16.01 lakh
The outgoing model was priced between Rs 9.93 lakh and Rs 15.56 lakh. The latest revision brings along a few cosmetic tweaks, a few extra features and a bunch of mechanical upgrades. The biggest change is in the engine department. It retains the same 2.2-litre engine but now makes 140PS of power and 330Nm of torque, a gain of 20PS and 50Nm. The Mahindra XUV500 also uses this powertrain producing similar power and torque. Along with an extra shot of power, the new Scorpio gets a 6-speed manual transmission.
Higher variants (S7 and S11) benefit from the extra power and the sixth gear while lower trims (S5, S7) continue to rock the 2.2-litre engine with 120PS and 280Nm. 4WD is reserved for the top trim and is no longer available in lower variants.
The S2 trim of this rugged SUV retains the 2.5-litre powertrain along with its modest 75PS of power and 200Nm of torque. The additional green tax applicable in the capital region led to the creation of a 1.99-litre variant of this engine, which matched the 2.2-litre engine's power output. This powertrain is no longer on sale.
Visual changes include a new grille along with redesigned foglamp housing and bumpers. The alloys are new and a bit toned down in comparison. Other features include automatic projector headlamps, LED 'eyebrows', automatic wipers, 6-inch touchscreen infotainment system, GPS navigation, parking sensors, reversing camera with guidelines, cruise control, climate control, tyre pressure monitoring system, ABS and dual airbags.
The SUV is available in multiple seating configurations. The S3 and S5 get 7- or 9-seat option with side-facing jump seats in the rear. The S7 is available with either 7-seat side-facing or 8-seat front-facing option. The top trim is available in 7-seater (side-facing), 8-seater (front-facing) or 7-seater (captain seat) configuration.
The new Mahindra Scorpio goes up against the Tata Safari Storme, which is priced between Rs 10.43 lakh and Rs 15.34 lakh.