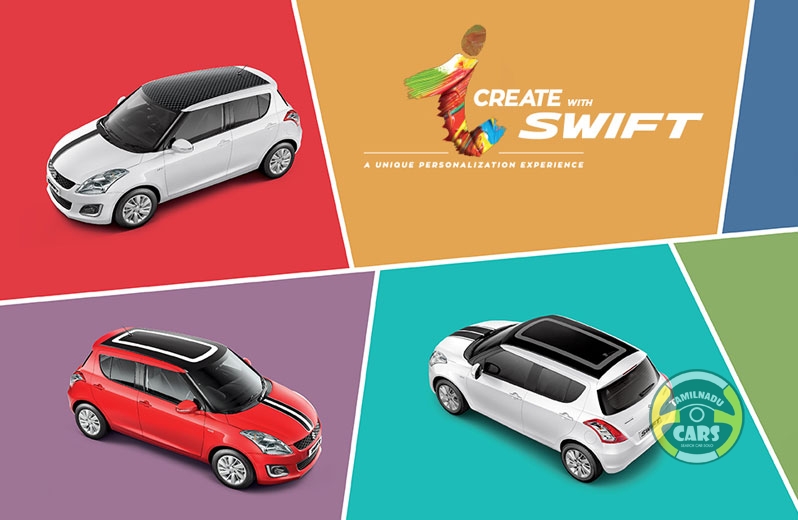 If you needed another sign that the new Maruti Swift is coming soon, this is it. Maruti Suzuki is now offering the 'i Create' personalisation scheme for Maruti Swift customers. This comes as good news as much like the Vitara Brezza (which is also available with this scheme) and Ignis, the Swift is a car that's quite mod-friendly.
Through i Create, customers can make their Swift more individualistic by accessorising the exterior and interior. The 'i Create' portfolio for the Maruti Swift includes specially designed roof wrap and hood graphic options, front and rear bumper spoilers, roof spoilers in different colours, side skirts and custom alloy wheels. Also offered are garnishes for the front grille, headlamps and rear hatch, along with body side moldings.
Inside, the biggest talking point is the flocking kit, available in red, blue and black. These kits essentially coat sections like the pillars and centre console in a velvet-feel fibre to add a premium touch (similar to the coating inside jewelry boxes). Also offered are wood and carbon finish interior garnishes, designer cushions and mats, special steering wheel covers (red, blue and white), and a wide range of seat cover options.
Other accessories include a bass tube, speakers, amplifiers, an air purifier, rear seat entertainment screens and more. Prudent to note that unlike the Vitara Brezza, there are no fixed packages here, so there's a lot of room to experiment. It also means that the final added cost over the standard Swift will depend on what options you choose.
Do you already own the Maruti Suzuki Swift? Don't worry as you can take your beloved car to the nearest authorised dealer and liven-up it up by getting any of these accessories fitted.